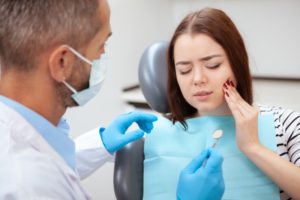 Back in March, when the COVID-19 pandemic struck the United States, dental offices remained open only for patients with emergencies. Even after opening back up for elective procedures, dentists have been seeing an alarming number of patients with cracked teeth. What's causing all of this dental damage? Keep reading to find out the answer, as well as some tips to protect your smile during the pandemic.
Possible Reasons for the Increase in Cases of Cracked Teeth
The most common cause of all of these cracked teeth is chronic teeth grinding, also known as bruxism. Over time, this habit leads to worn-down teeth as well as dental fractures. Here are three reasons why people are grinding their teeth more often nowadays:
From constant pandemic-related anxiety to "doomscrolling" through depressing news headlines, more people are stressed, which contributes to bruxism.
Many people are sitting in awkward, hunched body positions while working from home. The nerves in your neck and shoulder muscles lead to your temporomandibular joint (TMJ), which controls your jaw. As a result, poor daytime posture can cause nighttime grinding.
Sleeping problems, like insomnia and restlessness, are becoming increasingly common. These issues often indicate an overactive sympathetic nervous system, which controls the body's "fight or flight" response. Constant coronavirus-related stress keeps the body in a heightened state of arousal rather than rest, which results in more teeth grinding.
How Your Dentist Can Treat Cracked Teeth
If the issue is caught early enough, it can be treated with a simple filling or a dental crown (a tooth-shaped cap that slips over a tooth for protection against future damage). By leaving a cracked tooth untreated, though, you risk bacteria infiltrating your tooth and attacking the nerve. Not only is this excruciating painful, but it may require a root canal or even an extraction to prevent the damage from spreading.
If you notice a crack in your tooth, however small, call your dentist right away. When it comes to your oral health, it's much better to be safe than sorry.
How You Can Protect Your Smile
Here are some tips on avoiding cracked teeth:
Ask your dentist if you need a nightguard. They can make you a custom-fit tray to wear over your teeth that prevents the top and bottom rows from making harmful contact while you sleep.
Set up a proper at-home workstation. If need be, prop your computer monitor up on some books so the screen is at eye level.
Try relaxation practices, such as meditation or journaling, before bed to reduce stress and lower your risk of nighttime grinding.
Teeth may be strong, but there's only so much pressure they can take. It's much easier to prevent them from fracturing than it is to treat them after they've already cracked. When in doubt, ask your dentist what you can do to keep your smile healthy.
About the Practice
At Dent-Care Dental in Sunnyside, NY, we have not one, but two highly qualified dentists. Dr. Thomas Chung has more than 30 years of experience in the dental field so far, and Dr. Arthur Volker is a Fellow in both the Academy of General Dentistry and the American College of Dentists. They offer same-day appointments for patients in pain, as well as a variety of treatments for cracked teeth. For comfortable treatment from two caring dentists, contact Dent-Care Dental at (718) 937-6750.